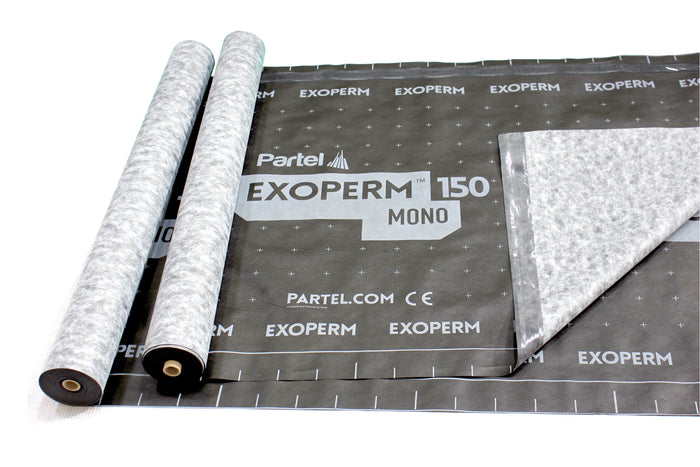 Next generation monolithic membrane
EXOPERM MONO 150 Connex with integrated adhesive tapes provides enhanced protection of the building structure. It is strong, durable, incredibly vapour open with an Sd value of 0.07m, and boasts market-leading tensile strengths and nail tear resistance. The Monolithic layer creates a complete wind tight, waterproof, breathable membrane that expels any water/humidity.
Why Partel EXOPERM MONO 150 Connex? 
Integrated tapes that facilitate easier, permanent connections
Developed based on Monolithic Technology
Highly breathable membrane with a low Sd value 0.07 m
Class W1 resistance to water penetration
Optimal UV and temperature resistance
Resistant to driving rain and wind
Windtight, but diffusion open
Airtight System, featuring an air permeance value of <0.001m3/(m2h)
Excellent aging resistance due to the Monolithic Technology
Helps to prevent structural damage in any types of buildings
Technical Data
| | | |
| --- | --- | --- |
| WEIGHT | EN 1849-2 | 150 G/M² |
| SD-VALUE M | EN ISO 12572-C | 0.07 M |
| WATER RESISTANCE | EN 1928 | W1 (BEFORE & AFTER AGEING) |
| TENSILE STRENGTH MD/CD | EN 12311-1 | 255 / 145 N / 50mm |
| NAIL TEAR RESISTANCE MD / CD* | EN 12310-1 | 130 / 160 N |
| TEMPERATURE RESISTANCE |   | -40°C TO 80°C |
| UV RESISTANCE |   | 3 MONTHS |
*MD = longitudinal CD = transversal
Application
EXOPERM MONO 150 Connex is an external breather membrane, with integrated adhesive tapes, designed for use on the cold side of insulation on facade wall and roof applications.
Suitable for:
Facades with closed joints
Timber and steel framed constructions
Warm, cold and hybrid roof applications
Pitched or flat roofs
Sarking boards
All insulation types
Monolithic Technology
EXOPERM MONO 150 Connex is a 3-Ply sarking, roof underlay and wind barrier with next generation monolithic functional layer and integrated adhesive tapes.
The monolithic functional layer provides enhanced protection for the building envelope:
transports vapour to outside

is vapour open whilst having excellent waterproofing properties

creates a complete wind tight, waterproof membrane that actively expels out any water/humidity, unlike most micro-porous membranes that rely on small pores (which have the tendency to block)

Dimensions
1.5m X 50m=75m2 (59-1/16" X 164'-1/2" = 807 SF)
Documents
---